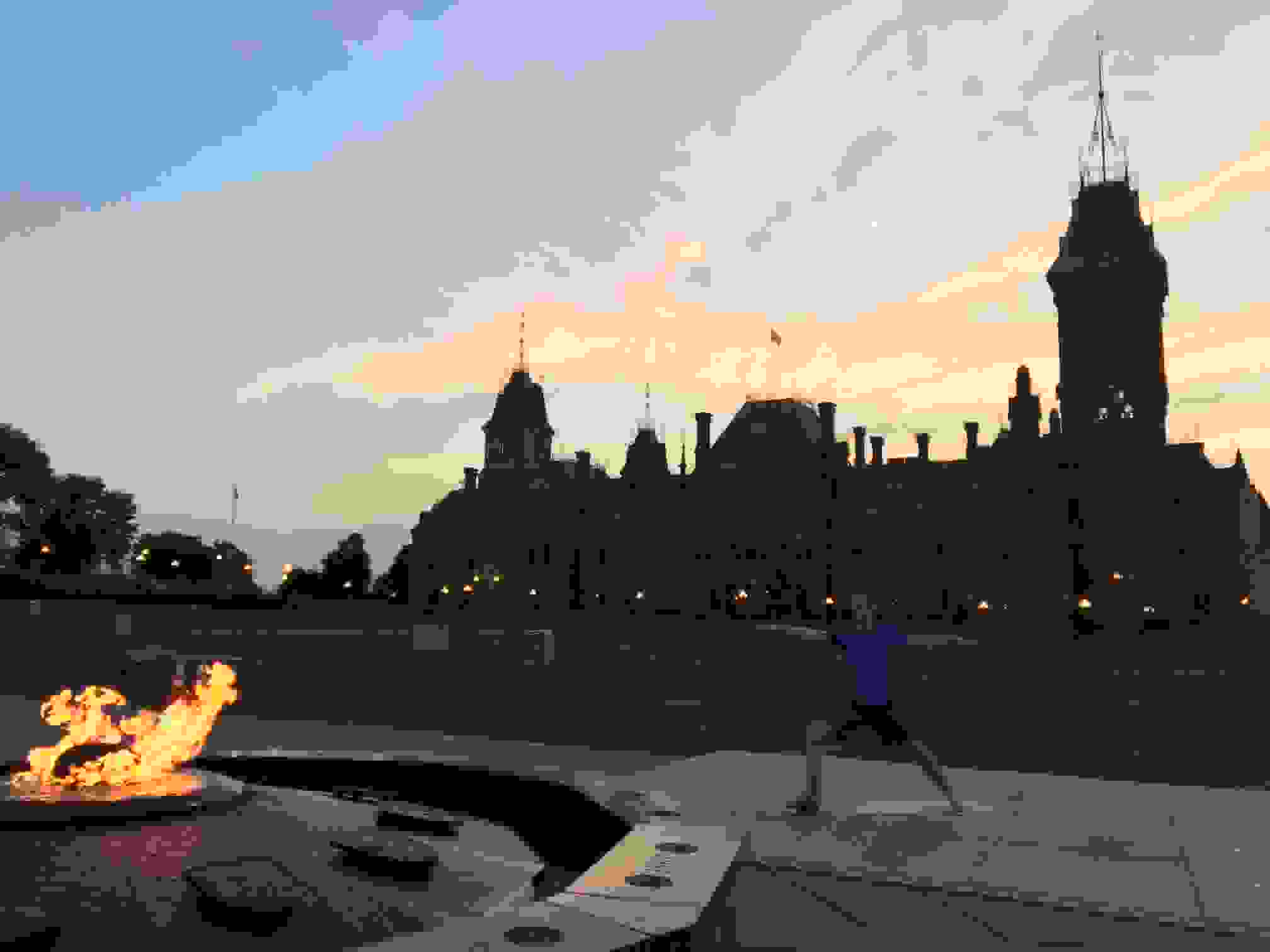 Summer Solstice in the capital city
Summer Solstice is by definition the longest day of the year. In our opinion, it is also the day where one has the most opportunities to get outside and get sweaty!
So we took our yoga practice to Parliament Hill in Ottawa, the capital city of Canada.
Meet Mark Wilkinson! Yoga instructor, motivational speaker, actor and singer, this local yogi is known for his infectious laugh and his dedication to positive and lasting personal development.
"I first came to yoga in 2010, and did not fully devote myself to the practice until 2013. I knew early on that I would teach the practice of yoga one day. In 2015, I became a certified teacher and have loved every moment since."
As a former competitive athlete, Mark pursued Ashtanga-inspired and heart-centred training with Mike Dynie and Mark Laham and currently teaches at Rama Lotus Yoga Centre and Upward Dog Yoga Centre in Ottawa, Ontario.
"My favourite thing about yoga is the practice of connecting physical movement to heart and mind. There are such beautiful bodily benefits to yoga, of course, but my favourite benefits are the ones for the spirit. I came to yoga as an athlete and dancer, and I had never experienced something that was so athletic that could also be like an effortless dance. I was hooked. Yoga really did change the way I now look at things, feel things, and express things. I am so grateful."
His hidden talent?
"Impersonations! Some of my friends' favourites include Stewie Griffin, several Jim Carrey characters, Morgan Freeman, Jimmy Stewart, and Michael Caine."
Advice for newbie yogis:
"Nothing on the outside should ever limit the power you have on the inside. Who you are and what you can do are not defined by your ability to put your leg over your head. Your beautiful soul is no less beautiful because of how you look in a pose like downward dog or pigeon. You have so much to offer the world, and yoga is simply an extension of your willingness to soften, to breathe, and to fall humbly into the limitlessness of what our hearts and minds can do." Read more here 
So on Monday, June 20th, the day with the most hours of sunlight, we challenge you to take your practice outdoors and honour the day with a Sun Salutation and your favourite yoga pose!
Shop the look:
Top: Men's Workout Ready Premium Tech Top 
Shorts: Men's Reebok One Series Speedwick Knit Short
Mark's full bio can be found by clicking here, or you can check out his personal site here and follow him on social media: @marklwilkinson on Twitter and Instagram and @officialmarkwilkinson on Facebook. 
Namaste.