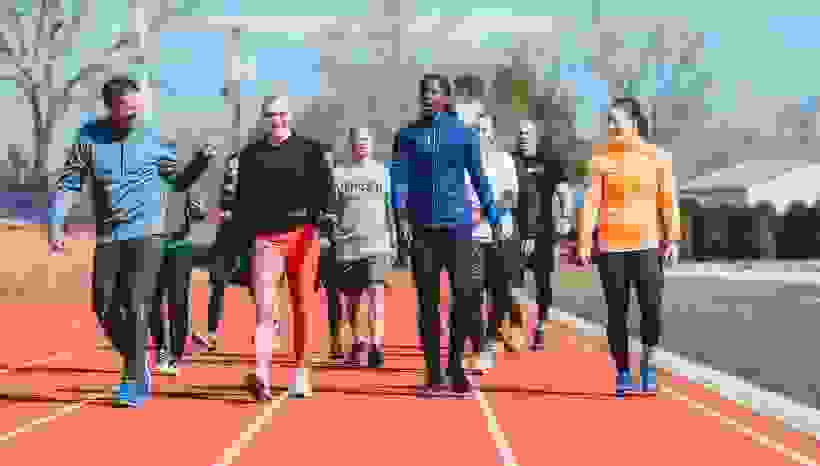 #AskTheExpert: Chris Hinshaw
With the warm weather finally here, running is currently top of mind for fitness enthusiasts.
When it comes to running, though, there are a wealth of training plans on the Internet.
With so much available, it's difficult to decipher which sources you can trust and which workouts are most effective.
The best solution? Just #AskTheExpert.
We teamed up with Chris Hinshaw, Endurance Coach to more than two-dozen podium athletes from the 2013, 2014 & 2015 Reebok CrossFit Games, to answer your burning questions.
@Reebok  posed the ask to the Twitter world.
Got a question for Hinshaw? He's got an answer ... and a very credible one, for that matter.
Here are a few of our favorites responses.
You may even notice a familar name asking one of the questions (cough cough, Matt Chan).
@Reebok @CrossFitGames @aerobiccapacity You come from a running background. Any tips for runners who are new to CrossFit? #AskTheExpert

— Monica (@moniizuni) May 18, 2016
Runners need to patient with CrossFit. Stay focused on learning the movements. Runners have very developed engines. As a result, runners often attack cardio and bodyweight CrossFit workouts. But, they also need to prioritize CrossFit workouts that create overall programming balance. Enjoy the process of developing and expanding your arsenal of fitness.
How often (per week/month) should work on your AC? @Reebok@aerobiccapacity#AskTheExpert

— Emmanuel (@mannysimz) May 17, 2016
I encourage all my everyday CrossFit athletes as well as my CrossFit Games athletes to perform two aerobic conditioning workouts per week. This volume has proven to maximize overall fitness.
@Reebok @CrossFitGames @aerobiccapacity What's your preference, aerobic conditioning work before mixed modality training or after?

— Matt Chan (@Matt1Chan) May 17, 2016
This depends on the targeted adaptation. I really like when athletes perform an aerobic conditioning workout followed by a mixed modality workout.
The aerobic conditioning workout has two stimulus options. The first option is a high volume and low intensity (aerobic threshold) workout. The second option is moderate volume and moderate intensity (lactate threshold) workout. The focus in these workouts is pacing consistency.
The key when coupling with a mixed modality workout is high intensity and high force. The high intensity mixed modality workout will push your heart rate above your anaerobic threshold. The high force mixed modality workout will maximize the recruitment of fast twitch fibers.  
This workout sequence and stimulus will create adaptations that will simulate the typical race experience. Most races will utilize slow twitch fibers in the beginning and recruit fast twitch fibers in the end. Your ability to generate power and perform at high intensities while fatigued is the targeted adaptation.