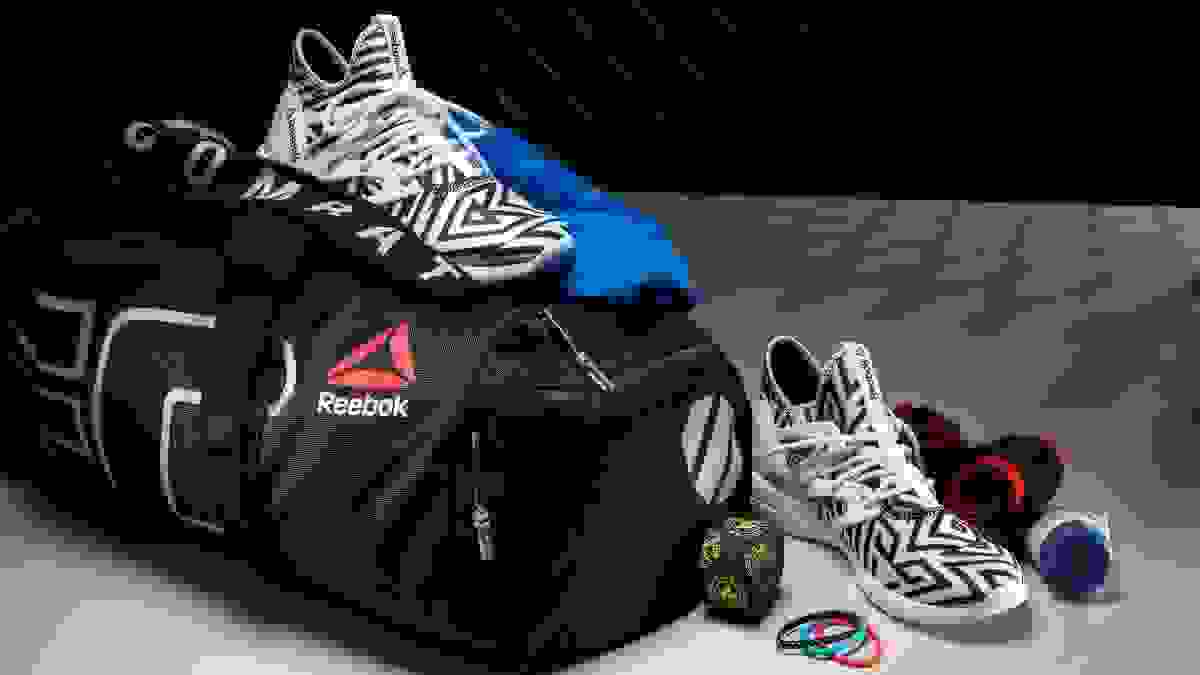 Paige VanZant's Gym Bag Essentials
Paige VanZant first caught our attention when fighting in the women's Strawweight division of the UFC.
Recently, however, the 22-year old has also been making a name for herself in an place where few fighters have dared to go before: the dance floor.
While throwing punches and dancing the salsa are not typically thought of in tandem, one thing that VanZant has carried over from the Octagon to "Dancing with the Stars" is a killer sense of style.
A believer that "every girl's workout staples should include super cute sports bras and yoga pants," VanZant let us take a peek into her gym bag so we could see what she packs for practice—be that boxing or a dance rehearsal.
Combat Duffle Bag
Staying true to her fighter roots, VanZant carries her gear in a duffle bag that's printed with the UFC logo on its side. Added bonus: the black bag pairs perfectly with any color combination – and VanZant attests that she loves "fun and colorful outfits" – ensuring her bag never clashes with that perfect gym look.
Hayasu
Designed specifically for fitness dance classes, the Hayasu shoe has proved ideal for VanZant when she's in rehearsal learning a new dance with partner Mark Ballas. In her bag today is the black and white striped model, but VanZant admits to also owning the all-black color scheme.
Funny enough, she liked the trendy look of this shoe so much that she often wore it outside the gym before even signing onto "Dancing with the Stars."
Printed Leggings
When it comes to workout apparel, VanZant says she picks pieces that are "cute and girly but comfortable and functional at the same time."
With that in mind, it's no surprise that her duffle is stuffed with several pairs of printed leggings, including these camo ones and these graffiti ones. The funky patterns add a flair to her look, while the tight fit allows her to move quickly on her feet without baggy sweatpants getting in the way. If you've checked out VanZant's Instagram, you'll often see her pairing these statement tights with solid tanks.
Combat Crop Top
Like them or hate them, crop tops are everywhere these days…even VanZant's gym bag. Her personal favorite? This blue one that comes from our combat collection. She can wear it in training, then leave it on and still look trendy as she runs errands or meets up with friends after a tough sweat session.
Strappy Sports Bra
Just because VanZant likes her training gear to have "good body support and coverage," doesn't mean she has to resort to old-school, plain sports bras. Especially when she's wearing an open back or drop-sleeve tank, the sports bra she has on underneath can make or break the outfit.
Don't let its fashion-forward look fool you, this strappy sports brais designed for fitness activities so it stays in place both when she's throwing punches and twirling in circles.